Interview | Xuanlin Ye
July 11, 2023
by Yannie Gu
Xuanlin Ye, image courtesy of the artist.


Xuanlin Ye (he/him) works and lives in Chicago. He received his BFA from the School of the Art Institute of Chicago (2017), received his MFA from Hoffberger School of Painting at Maryland Institute College of Art (2020), and graduated from the University of Chicago with an MA in Art History (2022).

Ye completed his thesis under the guidance of renowned art historian Wu Hung. He is the recipient of the Hoffberger Fellowship and MFA Juried Exhibition in Print by

New American Painting

(issue #159)

. He has been exhibited around the world, including Still, life at Art Cake Brooklyn, NY(2021), and has been featured at the Asian Students and Young Artists Art Festival at Hongik Museum of Art in Seoul, Korea (2021). His work was exhibited in art fairs, including Art San Diego(2022) and the art expo Dallas Taxes(2022), and the MDW art fair in Chicago(2022).



---

"As a painter, I use my creative process to interrogate and reflect upon the complex nexus of the image's origin, its historical and environmental contexts, and the formulation of artistic visual language. In my practice, I paint on top of photo-transferred images to manipulate, alter, and comment upon the image's cultural content. For instance, in my painting, Vase and Flowers, I photo-transferred multiple digitally generated pixelated pictures of Qing Dynasty peonies, a flower symbolizing wealth, fortune, and prosperity in traditional Chinese context.

The glitched effect of a traditional Qing dynasty painting creates a sense of tension within the image. The large vase painted on the surface and flower vine tracings produce a sense of cohesion between image and narrative in the painting. This act of painting becomes a reconstruction of narrative of painting itself in addition to the allegories contained within while serving as a deconstruction of the meaning of photo-transferred images. This painting process produces many questions for me as an artist: How are images culturally conditioned? How does history help the formation of images? What is the tight-linked relationship between my identity as an artist and the subject matter the audience expects to see? "



Xuanlin Ye, Trinity of the Nowness, oil on canvas. Images courtesy to the artist.
---
"I wonder about the past, present, and future relationships between different cultures and how I, as an Asian artist, should position myself in the social-political and art historical structure."




Q: You have a great amount of academic training in art under your belt - Could you please tell us a bit about your experience of being both a studio artist and an art history researcher? How the experience has enriched your practice & thinking?


A: My academic training in art history has been an invaluable resource for my studio practice. It helps me decode images and informs the content and style of my work. Recently, I've been thinking about the tension between my desire to create unique, unexplainable art and the pressure to articulate my ideas to others. And I believe that there is a reciprocal relationship between my art historical knowledge and my studio production. By combining these two disciplines, I am able to create work that is both meaningful and unique. While it can be challenging to articulate my ideas at times, I see this as a sign of the creative process at work. A good painting should be able to speak for itself and communicate on a deep, emotional level.

For instance, my oil painting, "Trinity of the Nowness", was inspired by classical Christianity-themed paintings, but it also draws on contemporary themes of humility and vulnerability. Although the painting has a rich cultural context, to an untrained eye, what is most striking is the emotional depth and sensitivity of the figures. When I created the painting, I struggled to articulate my thoughts and feelings about it. However, my art historical knowledge led me to research in the right direction, which helped me complete my subconscious thoughts on the work.




Xuanlin Ye,
Money God of the Jungle
,
oil on photo transferred wood panel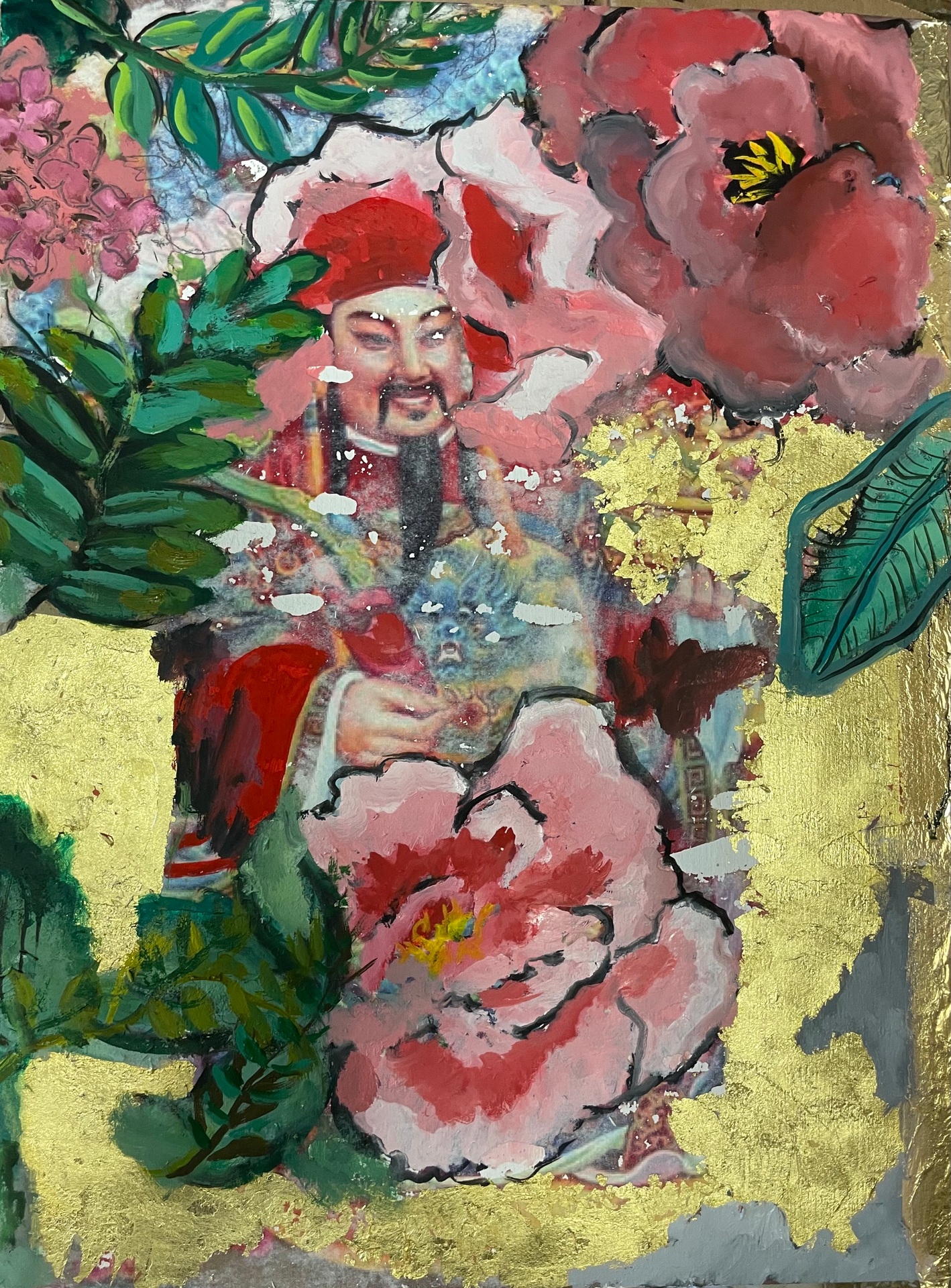 Xuanlin Ye,

Money God Gold Peony

,

oil on photo transferred wood panel



Q: Why did you decide to choose the Money God as the visual symbol to expand on the exploration of Asian identity and mentality in your art practice?


A: As a painter, I have been trying to use my painting process as a way to interrogate and introspect the complex relationship between transnational relationships. In my Money God series, the Money God travels through the history of art. Sometimes he dressed as a Guanyin traveling in an 18th chinoiserie Netherland glazed porcelain; sometimes the Money God became a model standing in Gustav Klimt's Asian print-inspired oil painting background. And Sometimes, the Money god is standing in a Chinese ink painting. In today's world, nationalism is on the rise, hate crimes become a common scene every day. By composing The Money God into different art historical references, I wonder about the past, present, and future relationships between different cultures and how I, as an Asian artist, should position myself in the social-political and art historical structure.




Xuanlin Ye, Money God of the Internet,
oil on photo transferred wood panel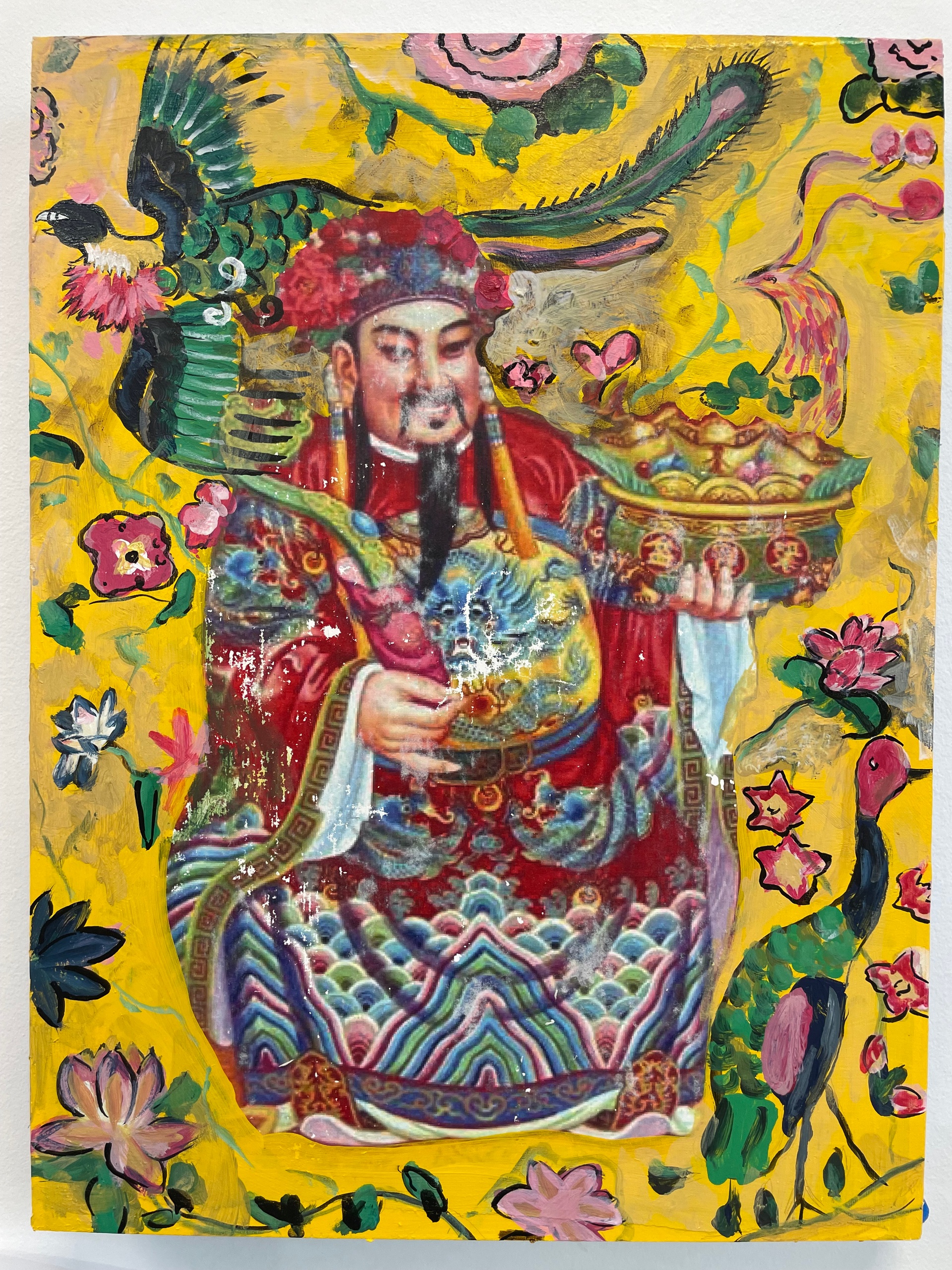 Xuanlin Ye,
Money God in Gold
, acrylic
---



Q: A large portion of your work is rooted in extensive art historical research, and the visual elements are closely tied to Chineseness and Asian aesthetics. As an Asian artist who is currently based in the US, how do you consider the communication between the paintings and your audience in terms of the ways they perceive the work?


A: The most important thing for me as a painter is making images that are visually interesting and intriguing, I think that kind of approach to painting is universal.

Some element of my painting is indeed related to the idea of Chineseness, however, deconstruction and connotation play an important part in my painting process. Especially the idea of Chinese identity, and Asian diasporic objects. By deconstruction and reconstructing those images in my painting, I believe that I am expanding the current conversation of Asian identity and those diasporic objects.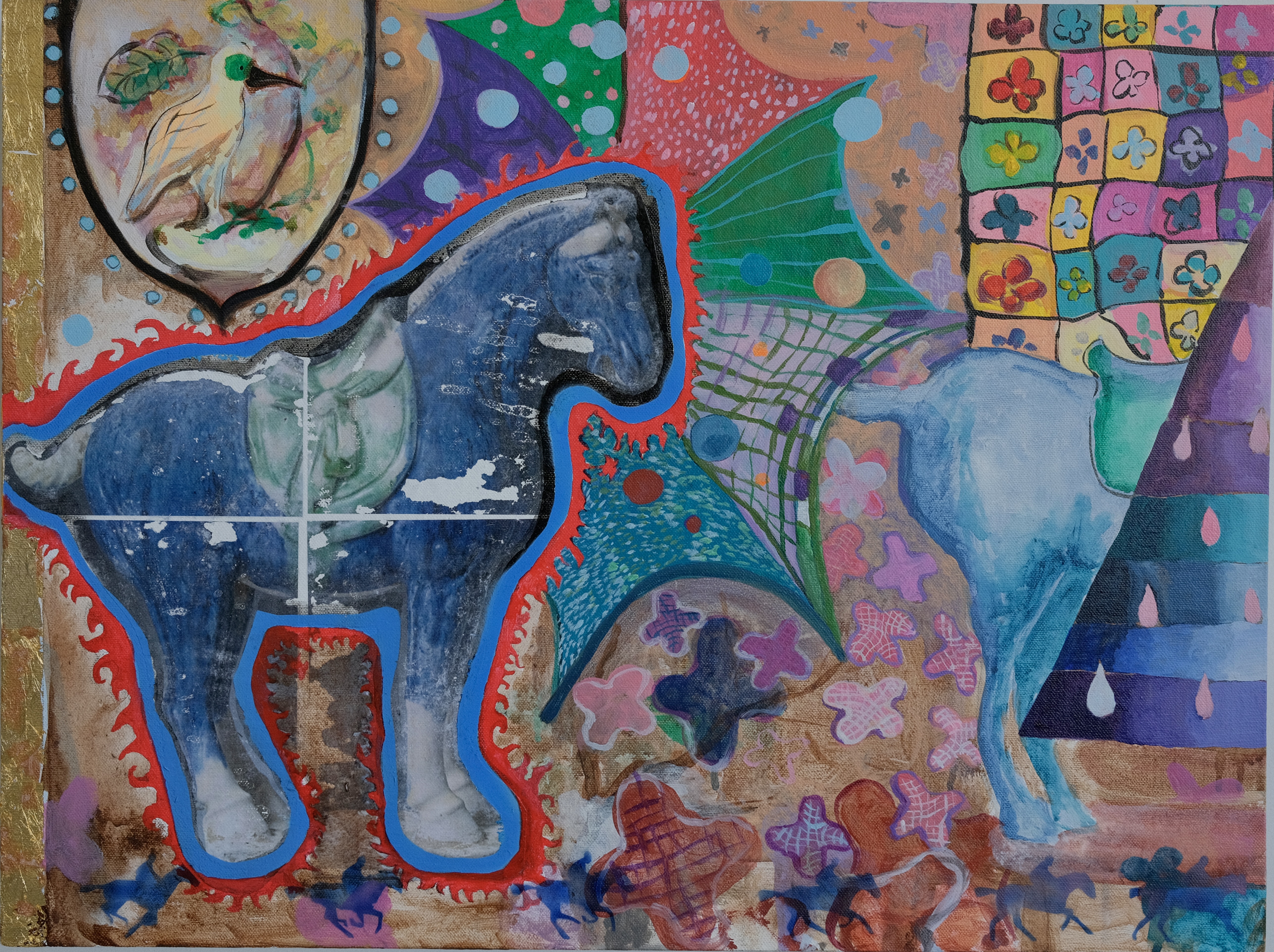 Xuanlin Ye,

Untitled

, acrylic, photo transfer, gold leaf. Images courtesy to the artist.




Q: The concept of Afrofuturism, experimented by black artists has been a popular discussion these days, while the concurrent idea of Asian Futurism has not yet received much attention in the western art world. As an artist who also works with mixed media and digital intervention, do you have any thoughts on this concept?


A: I think Afrofuturism and Asian futurism take a very different forms due to the inherent difference between the two historically disfranchised groups of people. For me, we can not ignore the past to just simply imagine what the future holds for our Asian bodies in the Western world. in my artwork specifically, we need to reconnect with art historical references and histories in order to create something for the future.


Q: Are there any books or films that have inspired you recently that you would like to share with our audience?


A: Recently I have been reading an art history book called Sensuous Surface: The Decorative Object in Early Modern China by Jonathan Hay; a very interesting read which I highly recommend. I also recommend Anne Anlin Cheng's Ornamentalism, definitely an eye-opener for me.


Q: Any advice you want to give to people who want to start making art?


A: JUST DO IT.